Modified by Mike Walters 2004
Back to Mystery Circuits Projects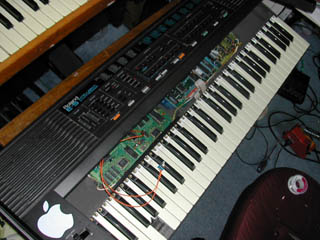 Sound Samples at the bottom of page.
"What Did You Do To My Intelligent Synthesizer?"My buddy Finn brought me his Roland E-5 Intelligent Synthesizer for an emergency repair before he went on tour. About 6 or 7 keys weren't working. He also gave me permission to find some mods. I only wired one, but it's really dang cool. I'm sure there are a lot more circuit bends on here, but I didn't want to get too risky because it was primarily a repair. Returning it fried would not be hip.
After that, Finn let me borrow WDYDTMIS anytime I did a solo show. It has this "instant Eno" sound quality that's quite beautiful. Then about a year ago, I found a broken Roland E5 on ebay for $3! It was a really easy fix, and I copied the bend I did on Finn's so I don't have to bug him anymore. WDYDTMIS can be heard a lot on The Nein's record "Wrath of Circuits" and on my project with Brian Buchanan called "Fun Fun".


Short song recorded straight from the machine (random delay/reverb effects came from keyboard)

A sample of WDYDTMIS synching with my drum machine via MIDI. 2 tracks with a little phaser.

Song called "Little Buttons" recorded with WDYDTMIS synched with The Contemporary Christian

A loop I created from WDYDTMIS. I submitted this to a mysterious site called Loopsilove, but I don't know if the project has dissolved??