Built by Mike Walters
Carrboro, NC 2002


A few months after I built Penatron, I met Mark Mothersbaugh at one of his art openings in Raleigh. I had the Penatron with me, and brought to the venue to show him. Surprisingly, he offered to buy it right there. I had a gut feeling that it wouldn't go over well with airport security, so I told him I'd ship it to him. Right after my band recorded with it, I shipped it over to Mutato. Our drummer called it Penatron, and the name stuck. My wife suggested I change the name because it was crude, so I came up with Peanut. But I still call it Penatron.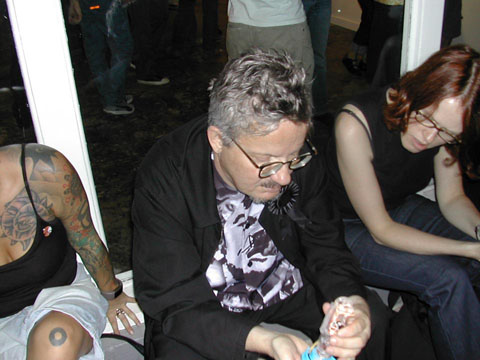 I didn't really hear much about it after that, until I came across
this site
. There's a 12 second video clip of Mark Mothersbaugh in front of Raymond Scott's Electronium being interviewed about Circuit Bending. I could barely see The Penatron right behind his shoulder, so I emailed Derek Sajbel (who made the documentary) to see if that was my instrument.
To see the rest of the story, check out the
Booji Board
.
Derek sent me a VHS tape years ago with the raw footage of the interview, and I put it on youtube (about 10 years later). This interview was from 2004.
I cut this from raw footage from Derek Sajbel's long running Circuit Bending documentary project (
http://absurdity.biz
)
Copyrighted footage courtesy of Absurdity.Biz used with permission